The razor wire barrier is a special barricade used by police and armies as a warning barrier for the target control sites or areas. The razor wire security barrier is designed with a remote control vehicle and three to four loops of concertina wire coils. The razor spiral wires can be deployed and collected automatically in seconds with simple operation of the remote control.

One Set of Razor Wire Mobile Security Barrier Complete Unit includes a towing vehicle and a trailer unit (Caravan) which contains 4 pieces of wire module with a length of 150meters barrier. 3 pieces of the module wire barrier with a length of wire barrier @ 40meters and 1 module with a length of wire barrier 30 meters. The razor wire coils are made of galvanized steel with a zinc layer of minimum 135-145 gram/ m². The vehicle for the barricade has adjustable front supporting tire and adjustable pulling rod. Unlike common mobile fence for general traffic and crowd control, this concertina wire barriers offering maximum security are specially designed for violent military or riot control uses.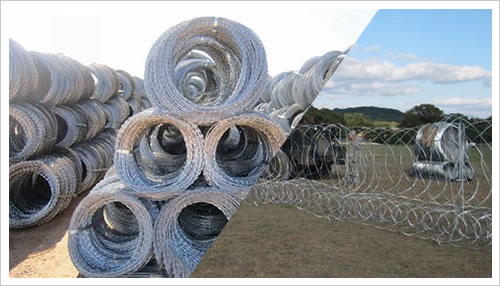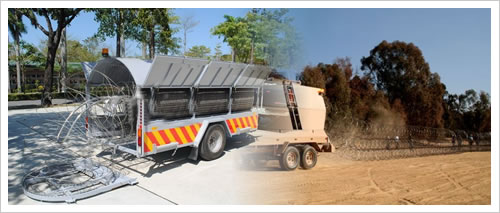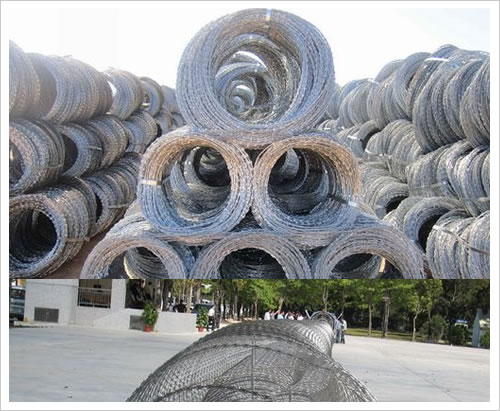 Razor Wire Mobile Security Barriers Used by the Police and Soldiers to Reduce Physical Contacts in Taking Controls:
A Device Composed by Wire Module Barrier and Vehicle
Warning equipment used by police to control some public emergency events. To protect the scene or the location of the demonstrators or rioters who try to enter, in order to reduce the physical contact between demonstrators and police officers. Also used by soldiers to protect the national boarders or military facilities in wars.
We offer a complete solution to open and close the razor wire easily and rapidly, by a remote control.
Dimension / size of standard razor wire module barrier:
1. Diameter of razor wire coil: 700 mm or 900mm
2. The length of the barricade minimum: 120 meters (3 x @ 40 m)
3. The width of the barricade: 1.4 to 1.5 m
4. High barricades: 1.5 to 1.7 m
5. Type / Thickness of Blades / thorns: Concertina Coil / 0.45 to 0.5 mm
6. The number of spirals: 55 of each coil (each 10 meters)
7. Razor wire: BTO-22, BTO-18, BTO-12
8. Material: stainless steel wire or iron wire
9. Surface treatment: Electro galvanized, Hot dipped galvanized
10. The coated layer of galvanized / Zinc :135-145 g /m²
Razor wire vehicle size and weight:
2190mm(W) X 4700mm(L) X 2220mm(H), one vehicle (with razor barbed wire) Vehicle net weight(without wire) : Around 2150kgs
Mobile Security Razor Wire Coils Barriers Design Concept and Features:
As a kind of high density razor wire barricade fencing with rapid deployment, the razor wire security fencing is designed with following concepts and features:
1.The system is designed to provide rapid protection - (75 to 1000 meter barriers of barbed tape/razor wire coils can be deployed in seconds).
2.Barriers are fully re-useable.
3. Towing Vehicles or equipment is supplied to uplift and recompress the barrier into modules, simple to handle and compact to store.
4. A single carrier unit can quickly be refilled to drop many miles of barrier in a short space of time.
5. Barrier Systems can be tailored to meet customers exact requirements.
6. Barriers are constructed of Barbed Tape Concertina (Razor Wire Coils) separated with high tensile anti-tangle strut concertina wires
7. Wire Barriers are supplied in 75 meter lengths which are compressed into compact modules which are simple to handle and can be stored effectively.
8. Winches are supplied with the carrier units to re-compress the barrier into compact modules after deployment - Strapping equipment is supplied to bind the modules
9. Hot dipped galvanized steel for lower vehicle body, reinforce protection and anti-rust.
Concertina Wire Coils for Security Barriers:
Concertina Razor Wire, using galvanized steel blade to wrap around a galvanized core wire. With its high security function, Concertina Razor Wire can prevent most of the intrusions for it is hard and dangerous to broke. With the Concertina Razor Wire on the top of other fences, it can greatly improve the safety factor.
Specification:
Outside Diameter: 450mm / 500mm / 550mm / 600mm / 650mm / 700mm / 750mm / 800mm / 900mm / 950mm / 1000mm
Length: 8m ~ 15m
Blade Thickness : 0.32mm ~ 0.6mm
Blade Type: BTO-10 / BTO-12 / BTO-22 / CBT-25 / BTO-30 / CBT-60 / CBT-65
Razor mesh fence sheet
110 / 120 / 130 / 140 / 150 / 210 / 910 / 920 SERIES
TOLERANCE SHEET
HEIGHT / WIDTH / LENGTH
< 1000mm
1000mm ~ 2000mm
2000mm ~ 3000mm
> 3000mm
± 5.00mm
± 10.00mm
± 15.00mm
± 20.00mm
PANEL WIRE THICK
1.0mm~2.0mm
2.0mm~4.0mm
> 4.0mm
± 0.10mm
± 0.15mm
± 0.20mm
POST WALL THICK
< 2.0mm
2.0mm ~ 4.0mm
> 4.0mm
± 0.10mm
± 0.15mm
± 0.20mm
HOT DIPPED GALVANIZED
50 ~ 100g/m2
100 ~ 300g/m2
300g/m2
505g/m2
± 10g/m2
± 20g/m2
± 30g/m2
± 50g/m2
MESH SIZE
< 40mm
40mm ~ 70mm
70mm ~ 100mm
> 100mm
± 1.5mm
± 2.00mm
± 2.50mm
± 3.00mm