Berming China supplies two types of Chain Link Fences for Children Safety: one is around the swimming pool, the other is above ground of the swimming pool. Most metal materials applied for chain link pool fence fabrics are galvanized steel and aluminum. According to surface coating, Berming chain link security fencing can be divided into Hot dipped galvanized steel and black vinyl coating.
Benefits of Chain Link Swimming Pool Safety Fence:
Safety for Children: Chain link pool fence satisfies safety standards of social services, and some building codes. From the poles with stainless steel pins to gates with sloped hinges, Pool safety fence has focused on maximizing safety. Swimming Pool Safety Fence is an effective physical barrier to keep small children away. Unlike pool nets and mesh covers that can allow a small child to be exposed to water, a fence helps keep children away from the water entirely.
Flexibility: Chain Link Swimming Pool Safety Fence is the product that can be installed around virtually any pool that will be used without changing how the pool is used. We can put a fence around pools with raised planters, sloped hill-sides, raised walls, steps, grass, and almost any landscape feature.
Convenience: Easy to use and easy to install.
How to Make the Chain Link Pool Fencing Safer? There are two choices for better security of the chain link fencing: One is using small opening fabric instead of bigger mesh fabric. For example: Using a 4' high, 1-1/4" mesh chain link fabric, instead of the standard 2" mesh. In this way, the chain link fabric becomes more difficult to climb. Another option is to use lattice installed in a chain link fence. This also makes the fence difficult to climb.
Mesh Options of the Chain Link Safety Fencing Fabric:
Chain link pool safety fences are available in sections with 4', 6' and 8' widths.
When using chain link for swimming pool safety, the mesh size should not be larger that 1-1/4 inches square unless slats (fastened at the top or bottom of the fence) are used to reduce mesh opening to no more than 1-3/4 inches. Any gaps under the fence should be no more than 55mm or (2 inches) all the way around the fence. Chain link pool fence gates should be positioned on the shallow end of the pool, should open out, should be self closing and self locking, and the gate locks should be placed on the inside of the gate, for 4 and 5 foot tall gates.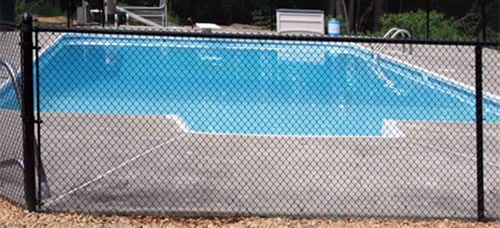 Popular Specifications for Chain Link Fence Fabric, Mesh Opening and Gates:
Fence Height:
Top of fence shall be 48" high.
Maximum vertical clearance at ground level shall be 2" (in ground pools).
Chain link Mesh:
Maximum mesh size shall be 1 1/4".
If fence is provided with slats fastened at top or bottom final opening shall not exceed 1 3/4".
Chain link pool safety Gates:
Gates shall accommodate a locking device.
Pedestrian gates shall open outwards away from pool.
Gates shall be self-closing and self-latching.
Child-proof latch must be used on gate.
| | |
| --- | --- |
| | |
| 1 1/4" mesh Chain Link Fence, Galvanized Steel | Black Vinyl Coated Chain Link Mesh, 1 1/4" opening |
Above Ground Pool Safety Fencing, Special for Above Ground Swimming Pools

Above ground pool fencing, is different from the common swimming pool safety fence. This type of pool safety fencing is specially designed and installed for the above-ground pools. Installation of a safety fence on the above-ground swimming pool is important for both the children safety and the users' privacy.

Popular materials applied for the above ground swimming pool safety fence is 24- or 36-inch height white vinyl fence. Vinyl fence has lightweight but sturdy structure, it is rust-proof and maintenance-free.
Installation of Chain Link Safety Fence System:
A quality pool fence installation is critical to both safety and appearance of the swimming pool.
The fence base:
Installation requires drilling a pattern of small, 1 1/4" (32mm) holes in the patio at 3' (91.44cm) intervals.

Planning include:
How far from the edge of the pool to each side you wish to install the fence;
Where you want to install the fence gate;
Chain link gate style: manual or self closing gates;
Fence posts.

Fence installation:
Pool gates must open outwards from the pool area and they must be self-closing and self-latching at all times.
The vertical components in the fences must not be more than 100mm apart.
The horizontal members in the fence must not be less than 900mm apart.
The space below the fence must not be more than 100mm.
The latching device on the gates must not be less than 1.5 meters above ground level, or alternatively the latching device is to be located on the inside of the gate/fence and be shielded so it is only accessible by stretching over the gate/fence.