Security Fencing Panels

Fencing Panels or fabrics for security fences include welded wire mesh, chain
link, expanded metal, knotted wire fence and others.
Temporary fence panels can be used for site works to protect workers and the public.
> More on Security Fencing Panels
Anti Climb Spikes
Anti-climb spikes for security is designed to work for security fences and various sites.
The Allwall Spike is designed to work anywhere, as its name indicates: pre-cast & steel fences.

Barbed Wire
Barbed wire, also known as barb wire, is a type of fencing wire constructed with sharp edges or points arranged at intervals along the strand(s). It is used to construct inexpensive fences and is used atop walls surrounding secured property.

Razor Wire
As a new kind protective screening, Razor barbed wire is also named as Razor wire mesh. It is weaved through corrosion resistant galvanized steel plate or stainless steel plate.

Concertina Coils
Concertina Coil Barbed Wire is also known as crossed razor barbed wire. Two pieces of stainless steel razor wire or zinc-coated razor wire are bound together by clips to make it
stronger.

Other Fencing Products
Berming specializes in metal wire fencing solutions not limited to security fencing systems, but a wide range of quality fences for export.
> More about our featured products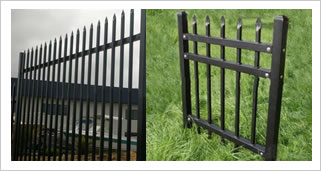 2015 New Product!
Spear Top Security Steel Fence: Metal fence panels made with tubular fence rails (vertical and horizontal rails), fence columns and spear tops. Hot dipped galvanized steel fence with black powder coating. Double protection layer, excellent corrosion resistance and long service life.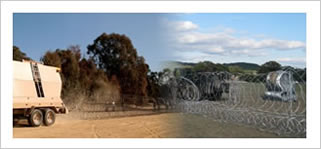 Razor Wire Mobile Security Barrier
A barricade device quickly deployed and compacted for temporary security fencing uses by the police and the soldiers. Designed against violent riot or military disorder. Portable with a towing vehicle carrying spirals of wire barrier modules. Remote control. Adjustable security barrier anti-climbing and anti-cutting razor wire fencing.